WHY BOOK DIRECTLY WITH US
Limestone Santorini Cave Suites Collection
EXCEPTIONALLY RATED HOTEL IN SANTORINI
No1 Top Rated Property In Fira
Most beautiful place on earth
Stephanie, us.
Limestone far exceeded our expectations. From check in to check out, everything was perfect. The junior suite was beautiful with our own private hot tub, window overlooking the volcano from our bed, and deck right above. We miss the hospitality and the delicious breakfasts
One of the best hotels I stayed in Europe.. not kidding!
Kwanrudee, th
Had a chance to stay in Fira 2 nights so I tried to look for a cozy but luxury place and I found Limestone! Glad I chose this place.. it's not only located in a great location, but the hotel itself has impressed me in so many ways.. especially hotel staff.. everyone is so lovely. I must thank to Thrasos and Chef Mike who made my stay incredibly memorable...
A magical stay in the most beautiful honeymoon suite, dreamy views and the kindest staff!
Jordan, gb
We booked this as our pre-wedding honeymoon (as we had to postpone our wedding due to covid!) and we werent disapointed! We have never been so cared for and looked after by staff, they honestly couldnt do enough for us and went above and beyond. The suite was absolutely beautiful and we felt so lucky and special to stay there….
This place is perfection, and the closest I've been to heaven on earth
Sharee, us
This resort is very accommodating and Management did everything possible to make sure our stay was perfect. Thasos make several recommendations for great local restaurants and activities in and around the resort…
Incredible hotel.
Dana, gb
Everything! The location was perfect, quiet but very short walk to shops and restaurants. The view is incredible! The room was clean and spacious with a very traditional cave style, which we loved…
Hotel that makes your Santorini trip unforgettable
Dmitry, gb
Personal attitude of hotel staff. All of them were extremely helpful and attentive to details. Special thanks to Thrasos (hotel manager) who was helping with each requests. -Each room is unique with Terrasse and jacuzzi…
The best stay in all of Greece
Rachelle, us
Everything about the property and the location was perfect. We stayed in Fira and Oia and Limestone's location was the best in all of Santorini. You had privacy away from the crowds walking through, luxurious rooms, spectacular sunset views, caldera views, exceptional staff and a short walk to the fun/restaurants. It's better than staying in the busy part of Fira where you're constantly squeezing by tourists and people fighting for photos. We felt so lucky to be close it it all but also have the privacy...
The most amazing experience ever. From when we arrive to the time we left the experience, service and hospitality
Jatt, gb
The property was in the perfect location, it was clean and also had the most amazing views. We were directly opposite the volcano island and had a panoramic view. It was properly clean and our room had a lovely hot tub. We was given everything we was promised on there website and more which made our stay very special and comfortable…
séjour de rêve dans une magnifique Suite avec un personnel au top
Marc, fr
l'emplacement de l'hôtel, la vue depuis le roof top de la chambre, l'équipement de la chambre, sa propreté -l'accueil et la gentillesse du personnel (le manager, le portier,la femme de chambre). Ils font tout pour que notre séjour soit un séjour de rêve (organisation check in, visites, room service) -le style et la déco de la chambre et de la salle de bains, -le service du petit déjeuner dressé avec élégance, -la bouteille de bienvenue et ses fraises -l'attention portée (verres de vin au coucher du soleil sur le roof top) -le check out au delà de 11h
Traumhaftes Hotel mit super Gastgeber
Georgios, ch
Wir haben die Honey Moon Suite (Sunstone) gebucht und sie ist der absolute Hammer! Sehr grosses Zimmer und Bad sowie die traumhafte Terrasse mit dem Jacuzzi. Es war sehr sauber und geräumig und wir fühlten uns hier sehr wohl. Von der Terrasse bzw. im Jacuzzi kann man den Sonnenuntergang beobachten und geniessen. Einfach top! Die Lage ist auch sehr gut, denn das Hotel ist zwar zentral gelegen, aber es ist eher etwas ruhiger und nicht so viele Leute unterwegs wie mitten im Zentrum. Thrasos, der Rezeptionist und der Verantwortliche für die Gäste, war super freundlich, zuvorkommend und hilfsbereit. Bei allen Fragen und Planung für die Tage war er stets eine grosse Hilfe…
Fabulous place to stay
Dana, gb
Everything - all the amenities, location and staff. We were treated so well by all the staff. Thasos, the manager, was so kind. Even though we weren't on our honeymoon, it felt like we were. We can't wait to go back next year! The breakfasts were delicious…..
Exceptional service
Deanne, au
Everything - all the amenities, location and staff. We were treated so well by all the staff. Thasos, the manager, was so kind. Even though we The service is exceptional. This is a small hotel with very few rooms. Each room is unique so it is essential to find out which room suits your needs. We stayed in the smaller junior suite. We loved it but be aware you enter the bed from the end. Less agile people might struggle. This hotel treats you like VIP's and that makes it so special. From meeting the transfer to carrying the bags (really essential) to and from the hotel, the staff were always available and polite. Nothing was too much trouble. The breakfast on the verandah delivered at a time that suits you.....wonderful.weren't on our honeymoon, it felt like we were. We can't wait to go back next year! The breakfasts were delicious…..
worth every penny
Monica, us
This boutique hotel is such a stylish little gem tucked on the cliff side of Fira. The staff is kind and unbelievably attentive. You will feel pampered from the moment you arrive up until you leave. The location is fabulous being a short walk to Gold Street with bars and restaurants and shops at your feet. The view is surreal, you won't be able to stop taking pictures! I wish I had booked additional nights-amazing stay.
A tribute to Santorini's past and present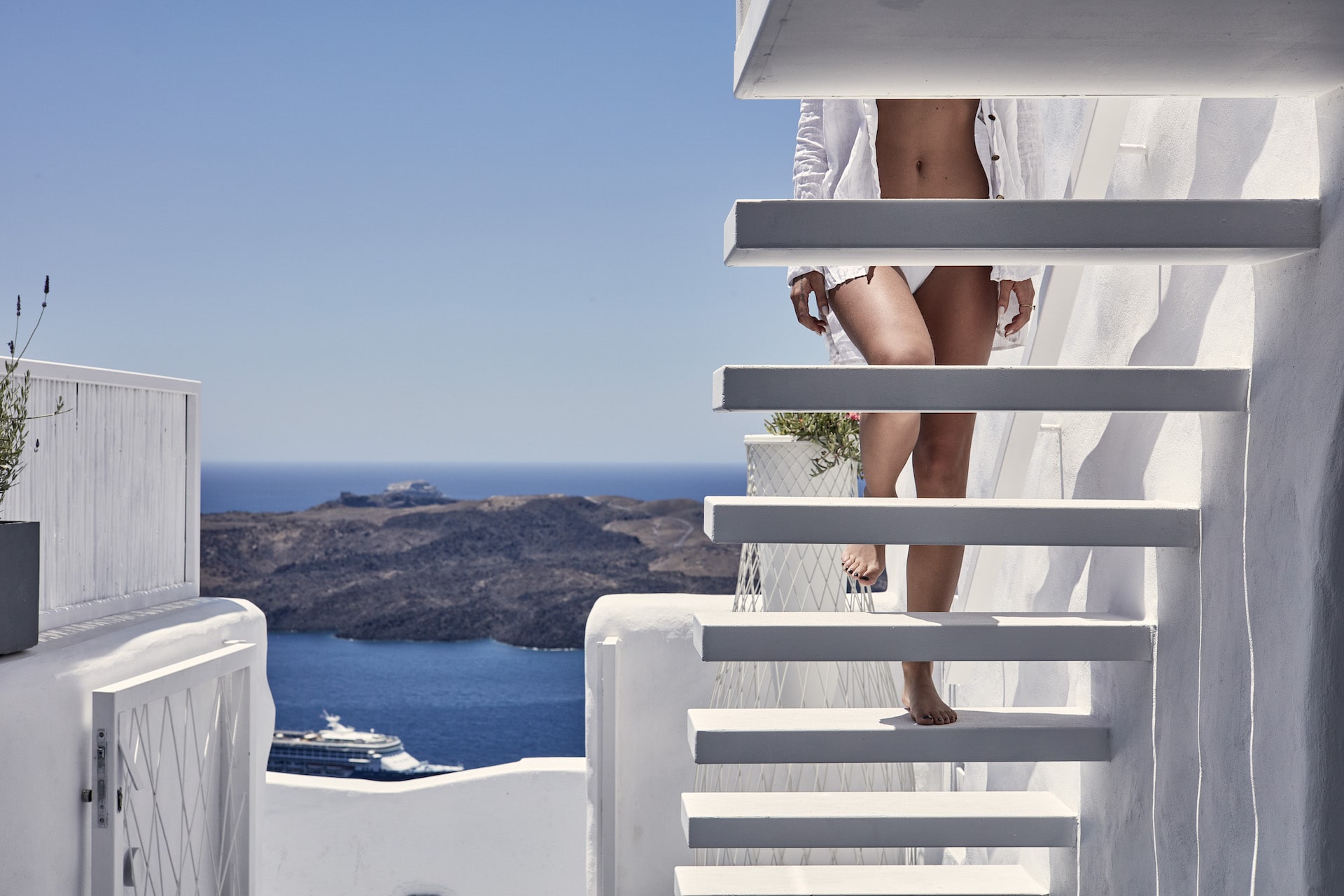 Your haven of tranquility & calm
Our collection boasts five autonomous, luxury suites that pay homage to the island's past; while celebrating its present and future.
With due respect to the local heritage and wisdom, all lodgings are refurbished with the use of traditional building materials; Red and black stone, and "Theran earth," which when mixed with water and lime creates an incredibly strong mortar.
Minutes walk away from Fira's center
Limestone , though safely removed from the town's buzz and hubbub, is a mere minutes walk away from Fira's center with all the restaurants, cafes, boutiques, jewellery and crafts shops.
It is 6 km from the airport and 8 from the port. Not to be missed, Oia is 11 km away; while the imposing archeological site of Akrotiri is at a distance of 18 km.
Limestone Santorini Cave Suites Collection